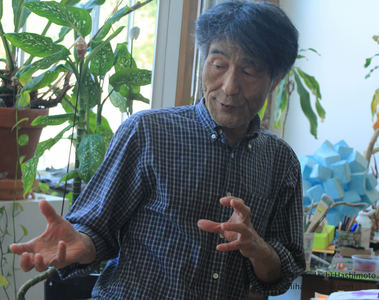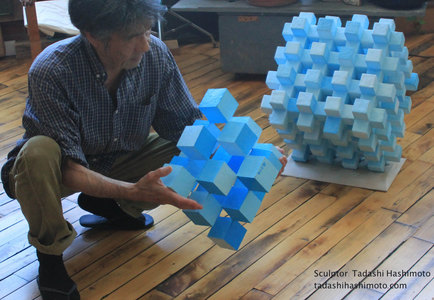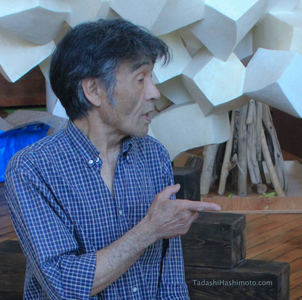 TADASHI HASHIMOTO - SCULPTOR
Born Japan
Resides NY, USA

SOLO
April 2014 to August 2017
Grounding Sky
, Sculpture Court, Cazenovia College, Cazenovia, NY
2017
Tadashi Hashimoto Maquette Sculpture, International Sculpture Day 2017- April 24th, Lofts at Beacon, 18 Front Street, Beacon, NY. April 1 to May 1.
2005
Tadashi Hashimoto, Studies for Large Scale Works, Gallery 221, NYC

2004
Tadashi Hashimoto: Myriad of Views, Oct. 26 2004 - Feb.11 2005, 125 Maiden Lane, Art in Buildings, NYC

PUBLIC SCULPTURE

2018-2019, Current
Grounding Sky at Summit Public Arts, current
sculpture site: across from Summit Train Station, located on the Village Green, nearby corner of Elm St and Broad St,
Summit, NJ

2013-15
Summit Public Arts, sculpture sites at Municipal Court and Library, Summit, NJ

2013
3D Centennial Project, Beacon, NY

2007
Salem Art Works, Sculpture Park, Salem, NY

2006
Inside Out, The Woodstock Byrdcliffe Outdoor Sculpture Show, Woodstock, NY

2004
Cambio Constante V, Arte en Orbita, Zaragoza, Spain

2002
Cambio Constante III, Arte en Orbita, Monasterio de Veruela, Spain

2000
Construction in Process VII- This Earth is a Flower, The International Artists' Museum, Łódź, Poland

1998
International Symposium Exhibition, Artist in Residence, Center of Polish Sculpture, Oronsko, Poland

1997
International '97, Socrates Sculpture Park, Long Island City, NY

1996
July Exhibition, Art Omi International Artist Residency, Ghent, NY
Omi International Arts Center, site of "Lightning Episode" 1996-2009, Ghent, NY

1994
Obscura, Pier Show, BWAC, Red Hook, Brooklyn, NY

1992
10th Annual Outdoor Sculpture Show, Empire-Fulton Ferry State Park, Brooklyn, NY

1991
Grass Roots Art Energy, Socrates Sculpture Park, LIC, NY

1990
Construction in Process- Back in Łódź, The International Artists' Museum, Łódź, Poland

SELECTED GROUP EXHIBITIONS
2018
Nation Vl,
The Greatest Show On Earth
, Jan. 13 to March 25, Brooklyn, NY.
2017
In the Balance, Gallery Gaia, Opening Reception Dec. 7th at 6 to 9pm, open weekends from 2 to 7pm, Dec. 2nd to Dec. 30th, 79 Hudson Ave., Brooklyn, NY

Sideshow Nation V, Thru the Rabbit Hole 2, January 7, 2017 thru February 26, 319 Bedford Ave, Brooklyn, NY, 11211.
2016
Nation IV, Thru the Rabbit Hole, Jan. 9 – April 10, Sideshow Gallery, Brooklyn, NY

2015
Kentler Celebrates 25, Advisory Board Selects, Kentler International Drawing Space, Brooklyn, NY

2014
Summit Public Art, Sites and Bites, Summit, NJ
Nation II, Sideshow Gallery, Brooklyn, NY

2013
Dennis-Nancy-Emmett-Sol, in honor of four great artists, Weill Art Gallery, 92nd Street Y, NYC
Arousal, Able Gallery New York, 511 W. 25th St, NYC (4 person exhibition)

2012
Matter: 2&3 Dimensional Abstract Works, Cazenovia College Art Gallery, Cazenovia, NY
The: Human Mic, Sideshow Gallery, Williamsburg, Brooklyn, NY

2011
It's All Good, Sideshow Gallery, Williamsburg, Brooklyn, NY

2010
Your Documents Please, traveling group show, originated in Brooklyn; to Museum of Arts and Crafts, Itami, Japan
It's a Wonderful 10th, Sideshow Gallery, Williamsburg Brooklyn, NY

2009
Quad 2, Vanbrunt Gallery, Beacon, NY

2008
Maquette Exhibition, Sculpture Park of Cedarhurst Center for the Arts, Mt. Vernon, IL

2007
Markers VI, Divine In Tent, The International Artists' Museum, July- Venice, Italy; Dec.- Kassel, Germany

2004
Group Exhibition, Gallery 221, NYC
Aura, Gallery OneTwentyEight, NYC

2003
The Wandering Library, Markers IV, The International Artists' Museum, a fringe event of the Venice Biennale, Italy
On the Tracks, Aurora Gallery, NYC
Merry, Sideshow Gallery, Brooklyn, NY

2002
Markers II, Electric Poles as Outdoor Sculpture@ Kassel City of Documenta, Germany
Markers, The International Artists' Museum, Orensanz Foundation, Center for The Arts, NYC

2001
Markers, outdoor banner event by International Artists' Museum in cooperation with 49th Venice Biennale, Italy
Milestones for Peace, from Israel traveled Dom Schatz Kammer, Aachen, Germany; Museum Sztuki, Lodz, Poland

1998
Brooklyn Gone Country Style and Back to Lodz, Galeria Wschodnia, Łódź, Poland (Two person exhibition)

1996
Cross Sections Beyond Surface, 3-D Painting, Wall Sculpture, Installation, B.A.C.A. Downtown Gallery, Brooklyn, NY

1995
Sculpture Maquette Exhibition, Lookout Sculpture Park with Val D'Aosta Museum, Italy

1994
Maquette Show, 15th International Sculpture Conference, San Francisco, CA
Works on Wall, Lookout Urban Space, Prince St., NYC

1993
Maquettes, Lookout Sculpture Park, Damascas, PA

1992
Sculptors Drawings, Kentler International Drawing Space, Brooklyn, NY
Void & Vision, Right Bank Gallery, Williamsburg, Brooklyn, NY

1989
Paintings and Works, 240 Centre St., NYC (Two person exhibition)

1987
28th Three Rivers Art Festival, Juried, Pittsburg, PA

1985
Neo-Abstraction, One-Person Show, The Expresso Gallery, Pasadena, CA

1980
Fine Arts Show, Otis Main Gallery, The Otis Art Institute, LA, CA

1979
Pasadena Art Exhibition, Ambassador Collage, Pasadena, CA

SELECTED COLLECTIONS
Francis J. Greenburger Collection, NYC

Chuck Davidson, NY

Michael Brod, NY

Public Collection, Borja, Spain

Public Collection, Town of Żnin, Poland

Museum of Contemporary Sculpture, Centre of Polish Sculpture, Oronsko, Poland

GRANTS
2008
The Adolph & Esther Gottlieb Foundation, Inc., Individual Support Grant, NYC

2002
The Pollock-Krasner Foundation, Inc., Individual Artists Grant, NYC

1997
Athena Foundation, sculpture grant, NYC

1991
The Pollock-Krasner Foundation, Inc., Individual Artists Grant, NYC

1991
Athena Foundations, sculpture grant, NYC

PUBLICATIONS
Socrates Sculpture Park, Book Publication for 20th Anniversary, 2006, lists artists, sculpture, pp. 71, 80, 214, 217

Markers, 2001; Markers II, 2002; Markers IV, 2003; Markers VI, 2007; international collaborative events, documents art, four catalogs

Palace Museum, History Museum of Lodz, 2003, sculpture photograph, p. 109

Participating Artists July, ART/OMI Ledig House, catalog, 1996-1997

Museo Val D'Aosta, Lookout Sculpture Park Tour, catalog, 1995

10th Annual Outdoor Sculpture Show, in the Empire-Fulton Ferry State Park, catalog, May 1992

Grass Roots Art Energy, Socrates Sculpture Park, catalog, 1991-1992

The Artists' Museum: International Provisional Artists' Community, documentary book, Łódź, Poland, 1990, art images, lists artists, mention, pp. 169,175,202,230

28th Three Rivers Arts Festival, Juried Visual Arts Exhibition, catalog, Pittsburgh, Pennsylvania, June 1987

REVIEWS, PRESS
Independent Press, blog.nj.com, "Tadashi Hashimoto's sculpture 'Maia'…", Aug. 20, 2014

Syacuse.com, "Art Beat…", Cazenovia College has installed Grounding Sky, Syracuse, NY, May 14, 2014

Allison Meier, "An Annual Floor-to-Ceiling Cross Section of Contemporary Art", Hyperallergic, on-line review, lists artists, art image, Feb. 28, 2014

Piri Halasz,"The Latest Superspectacular", From the Mayor's Doorstep, on-line review, lists artists, January 21, 2012

Lisa Chamberlain, "Square Feet; An Art Gallery in the Lobby", nytimes.com, mention, March 7, 2007

Woodstock Times, p. 29, Byrdcliffe Outdoor Sculpture, in art review, art image, July 20, 2006

Robert C. Morgan "Tadashi Hashimoto", Sculpture magazine, review solo exhibition, June 2005
http://www.sculpture.org/documents/scmag05/june_05/june05.shtml

In the Front- Zaragoza Cultural Society publication, "Cambio Constante V", Summer 2004

Julia Twardowska,"Center of Polish Sculpture in Oronsko", Text & Cover magazine, March 2003

Benjamin Genocchio,"These Artists Find Inspiration Afloat", The New York Times, mention, August 10, 2003

IBL News, "El Monasterio de Veruela, Cambio Constante III…", Zaragoza, Spain. September 2002

Richard Vine, "Report from Poland- Woodstock on the Brda", Art in America, mention, March 2001

Robert C. Morgan, "Construction in Process VII", Sculpture magazine, art image, mention, Jan/Feb. 2001

Adam Klimczak, "Object Nature", ORO, Centre of Polish Sculpture, review event, sculpture on cover, Quarterly 1999

Maria Wasko,"Construction in Process", documentary film, mention, Łódź, Poland, 1990

EDUCATION
BFA 1981 Otis Art Institute Los Angeles California